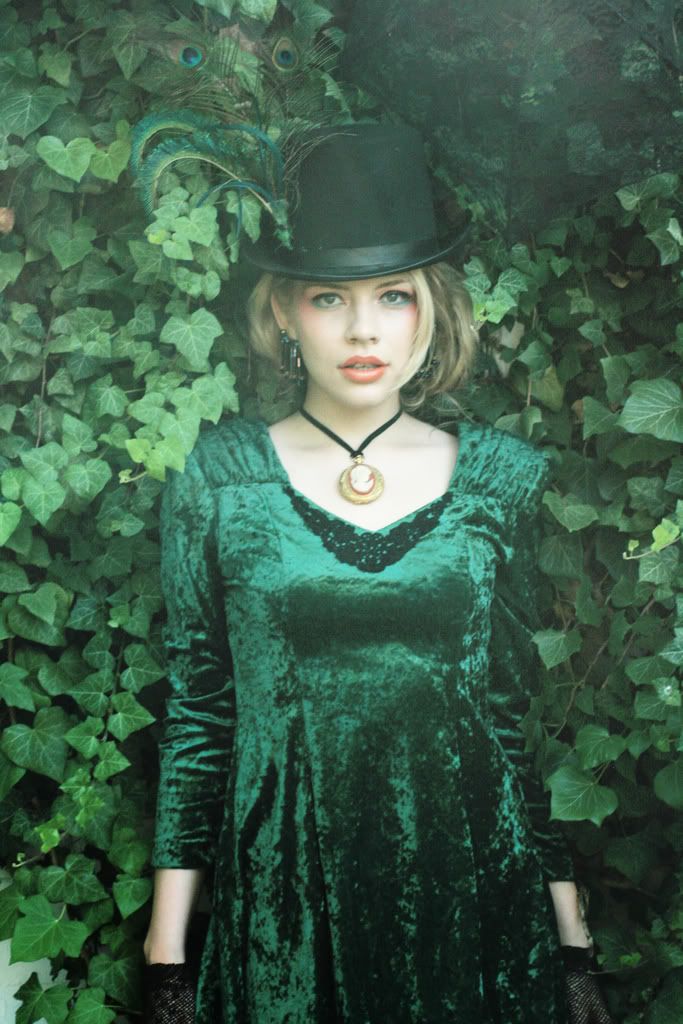 Wardrobe is all vintage. PINK CHAMPAGNE FASHION green velvet dress.
Last month, I joined up with some local talent for a portfolio building session. Instead of undertaking my usual role as a model, I utilized my styling skills in the wardrobe department. Our shoot took place at a beautiful private residence, at the bottom of the garden.
There's something magical about the phrase "at the bottom of the garden". Uncommon in American dialect, this is a fairly common term in 19th and 20th century British literature. In my experience, this phrase is most often used in correlation with the presence of Faeries or other magical beings. Google these six words, and you'll be given a list of fantasy-related results.
Growing up in a late 19th century house, I can personally testify to the quiet solitude and mysterious beauty of the bottom of a garden. Although my family lived downtown, we were fortunate to have a beautiful stretch of backyard at the back of the house. Up towards the house, one felt the vibe of civilized natural beauty, but further out, at the bottom of a small hill, things felt more wild and mysterious. If Faeries did happen to live in my backyard, they'd certainly prefer some peace and silence away from our rambunctious household.
Given the setting of these photos, complete with the eclectic wardrobe and beauty of the models, it's fairly easy to imagine these damsels as fashion-minded Faerie Folk.
Mwah! Mwah!
~Hope Adela